Welcome to Brynmill Park
Always a popular attraction for the local community Brynmill Park began to fall into some disrepair through the 1990s and early years of new millennium. However, Brynmill Park is steadily being recreated and improved thanks to the hard work of the Swansea City Council Park Officers and generous grants provided by the Heritage Lottery fund.
The Park is fun for all ages, but is especially fun for youngsters, check out the Park activity for youngsters at Junior Park Rangers for loads of events and activities at Brynmill and the other parks in Swansea!
If you want to hold an event in the park, the council would be the people to talk to...try contacting tham at
If you want to use the The Hide, formally the Discovery Centre go to Discovery-Centre and use the contact details there
---
Latest News:
Easter fun!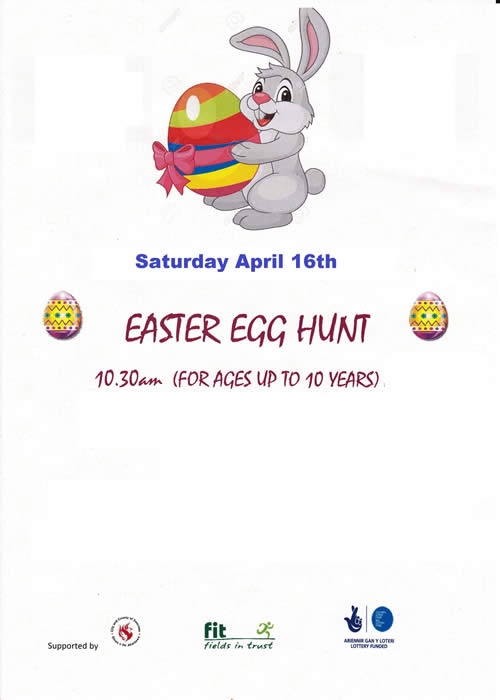 John Ford, Swansea artist, has sent us a lovely example of his work;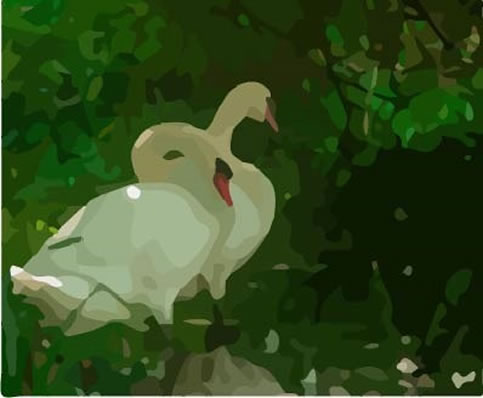 It is of course copyright of the artist.
Brynmill Park is curremtly open during this awful pandemic. We're lucky we can still use the park but please follow government and local authority social distancing guidelines for the use of the park.
Do not congrgate in a group unless it's a family group.
Keep 2 metres apart from other individuals.
Wash your hands when you get home.
Brynmill Park is a lovely and vital resource for us all, please let us all continue to enjoy it.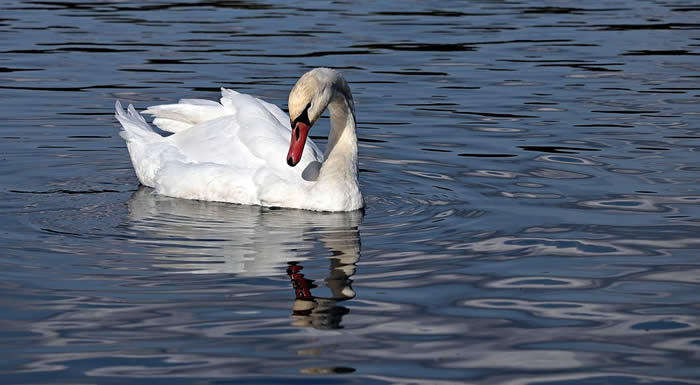 We've retained pur Green Flag Full Award!
See here for details;
Green-flags-flying-at-city-beauty-spots?fbclid=IwAR1N-1cbYe2wfRC6ZE2QmT6rPhMYVXigYoYC-5aQLZeUorVftGuujLLRXcc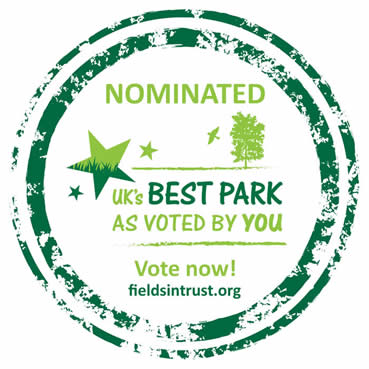 Olympic Fun Day at Brynmill Park
Here are a couple if pictures of the Olympic Funday...with thanks to Rhys Morgan for his permission to use the images;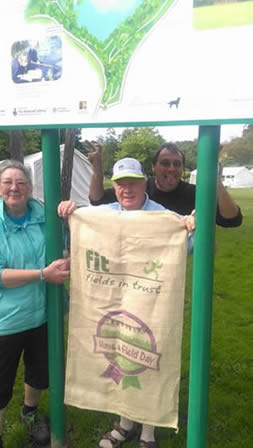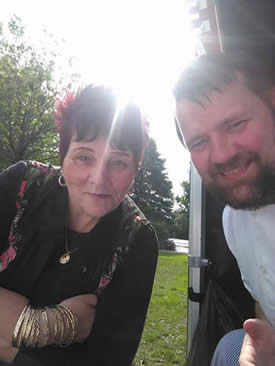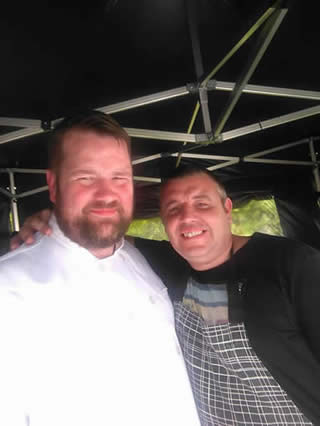 ---
Older news;
Thank you all for coming to the park for the Easter event we hope you enjoyed the day as much as we did! If you pop over to the 'gallery' part of this website you'll see some photos of the day taken by one of our members, Sandy. Thanks again to all the contributions you've made to the Park via the collection that the nice guys in Costa Cafe set up in Uplands and the donations you've given us on days like the Easter event.
Also, if you remember a while back, we posted the news that thanks to the determined efforts of FOBP member Norman McCarley, Brynmill Park is now a protected community space. The Easter event saw the unveiling of the plaque that commemorates the park as the "Queen Elizabeth II Field, Brynmill Park". Please see below in the news stream for further information about this change.
Here are some pictures taken by FOBP member Sandy of the unveiling,our Norman is on the left;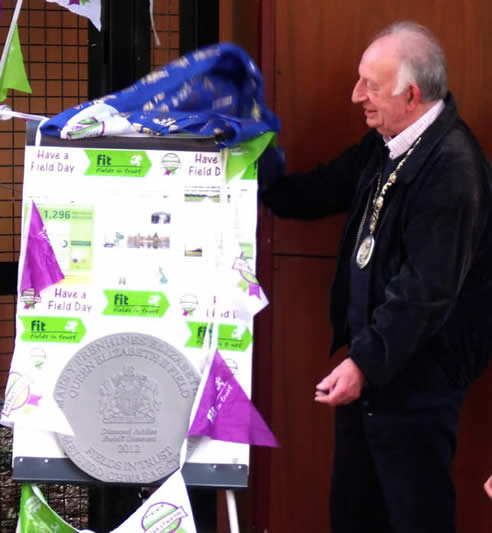 The Welsh Church Act Fund has awarded the FOBP £2000 to top up our funds for events and equipment! Again, we're very fortunate and full marks must go to the committee and those individuals who fill out all the applications forms and spend their time and energy in researching how to make succesful applications.
What is the Welsh Church Act Fund? It is a charitable trust, independent of public authorities, the purpose of which is to make grants of a philanthropic nature for a wide-range of purposes such as social and recreational facilities.
We're In The Top Three!
Remember we asked you all to take part in the Lloyds Bank Community Fund 2014 vote?
Well, you did us proud! Our Treasurer Allan Jeffery has received a letter from Lloyds Bank telling us that Brynmill Park has been rated 3rd in Swansea by community votes!
Here is their message;
"During the public vote, nearly 1.5 million votes were cast across England, Wales, Northern Ireland, the Isle of Man and the Channel Islands. We have now counted the votes cast in our Lloyds Bank branches and added these to the online, Twitter and SMS votes. We can now confirm the final voting results in Swansea were as follows: Total votes in Swansea: 11561
| | | | |
| --- | --- | --- | --- |
| Organisation Name | Rank in Swansea | % of votes in Swansea | Amount awarded |
| Ty Olwen | 1 | 32.8 | £3,000 |
| Mumbles First Responder Team | 2 | 30.2 | £2,000 |
| Tom Morgan's Friends of Brynmill Park | 3 | 18.8 | £1,000 |
| CUSP Swansea | 4 | 18.2 | £500 |
Check out the Lloyds Community Fund website for more details. "
Its a great result for all concerned, and for the Park especially as it shows just how dear it is to the hearts of the people of Swansea.
It means we can carry on planning to give you all some great times at events in the Park and hopefully get even more people to visit this charming site.
THANK YOU to all who voted for us.
Great News for all users of Brynmill Park!
Thanks to the determined efforts of FOBP group member Norman McCarley, Brynmill Park has had its future secured from any threat of development!
Fearing for the future of the Park in these uncertain times, Norman approached the 'Fields in Trust' organisation (formally the National Playing Fields Association) and secured their expertise in establishing the status of the park as a protected space.
A deed of declaration has been drawn up between the City and Council of Swansea and the Fields in Trust organisation establishing the Park as a protected space now known as the "Queen Elizabeth II Field, Brynmill Park".
Information on the Fields In Trust can be found here:
http://www.fieldsintrust.org/
A plaque has been erected in the Park to commemorate this event. If you want more information please contact us via the methods on our "get in touch" link or come and join us in our monthly meeting at the Brynmill Community Centre which occur on the last Tuesday of every month.
SOUTH WALES EVENING POST CASH FOR COMMUNITIES COMPETITION
The Friends of Brynmill Park group organised a collection of vouchers for the Evening Post competition which posted a fund of £20,000 to be divided by fifty community groups. Thanks to the efforts of the Brynmill and Uplands communities, local traders and our members, we secured a share of £329.77!
We are delighted to receive this amount to put towards community events in Brynmill Park. We'd like to say a big THANK YOU to those whose great response largely contributed to the number of tokens collected.
It was certainly a project which drew the community together and reflects the fondness you all have of Brynmill Park and your appreciation for all our past events.
Thanks to the huge efforts of the Friends Of Brynmill Park committee, especially Ann Jones (our secretary), the National Lottery's Big Lottery Fund
has awarded the park a grant of £2665 to fund our events and promotions!
Thanks to the huge efforts of the Friends Of Brynmill Park committee, especially Ann Jones (our secretary), the National Lottery's Big Lottery Fund
has awarded the park a grant of £2665 to fund our events and promotions!
Brynmill Park gets national coverage!! Have a look at this link;
Its your Park!
Want to stage an event or happening?
Got an idea for a happening?
Tell us: Please get in touch via this web page or drop a note into the suggestion box in the discovery centre and
we'll probably be able to make your ambitions come true!
Oral History Project.
Have you got any memories of the Park?
Do you drift away into a warm glow of nostalgia when you remember your Mum or Dad taking you to see the old menagerie or going to feed the ducks on a Sunday afternoon?
Did you and your beloved sneak away for a crafty snog amongst the flower beds?
Want to share ( be careful if its the latter sort ) those memories?
If so we're going to launch an oral history program to record all these precious moments. We have got ourselves a digital voice recorder (thanks to those grants mentioned below) and we're going to start a collection of verbal histories which we can store and use (maybe we can stream them from this web site) so everybody can share your experiences of the Park. Contact us via this site's 'contact' page and tell us all.... We promise not to sell it to one of the tabloids, honest!
Grant Applications
Tom Morgans Friends of Brynmill Park have managed to secure a number of grants to allow us to continue to promote the use of the Park for recreational and educational uses. We were fortunate in securing money from the 'Tidy Towns' organisation that will allow us to purchase liability insurance for a number of events during the next year. They've also provided kit for keeping the park tidy. Feel free to volunteer to help use this kit!
Other monies are in the pipeline and our plans include the purchase of small public address system and a digital voice recorder so we can record peoples memories of the park from the past to the present. Again, if this is of interest to you, please get in touch!